19/01/2015
Gifts summer Olga Kalashnikova!



Gifts summer Olga Kalashnikova!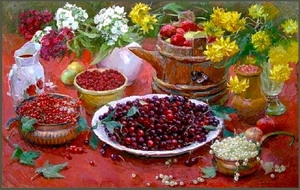 Artist Olga Kalashnikova graduated in 1979, after graduating from the Moscow Aviation Institute, Department of "Applied Mathematics". In 1988 she graduated from art-graphic faculty. Olga Kalashnikova writes his paintings with female vigilance, color and lyricism. Has its personal exhibitions in Moscow, starting s1996 year. In the US, an exhibition and workshops in North Carolina, in the Gallery of Russian art.